"Dancers, your fifth and final dance, the Mambo," the announcer spoke. Mara Morner-Ritt and her teacher, Alex Demkin, took their places and started to dance. Little did they know, this Mambo would become a viral video. We whipped out our phones to take a video of something we felt was special.
Mara had palpable energy and charisma, and we knew that our community needed to see her dance. That afternoon, we posted a video of Mara and Alex's Mambo, which almost 12 million people have now viewed.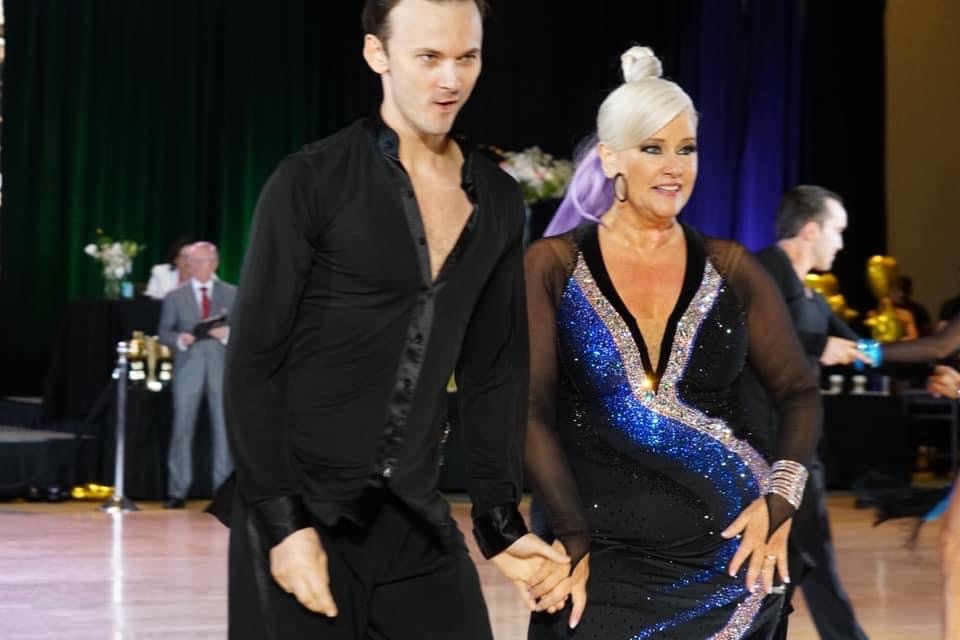 We sat down with Mara to ask her about her life as a dancer and to share her story. By day, Mara is an attorney for a production services company in Los Angeles, California. After work, she trains with her teacher, Alex, in Van Nuys, California. Mara grew up dancing in California, starting to get into ballet, tap, and jazz in middle school. It wasn't until college that she discovered an audition opportunity for the ballroom dance team at the University of Southern California (USC). "I showed up with my ballet bun," Mara chuckled. "I had no idea what ballroom dance was. I made the team, and I couldn't believe I had to dance in high heels!".
After college, Mara continued to train in ballet but stopped dancing for a while. When she turned 50, she wanted to come back to dance, and ballroom was calling her name. She has been competing with Alex for four and a half years in the American Rhythm and Smooth categories. Mara described her competitors as "pretty amazing people - doctors, lawyers, businesspeople" - and she is no different. A mom of two girls, Mara dances after working her 9 to 5 job. "For me, dance is such an important outlet for creativity. Dance gets me outside of myself in a way that challenges me. I love to dance. It allows me to grow in ways that I need to grow.".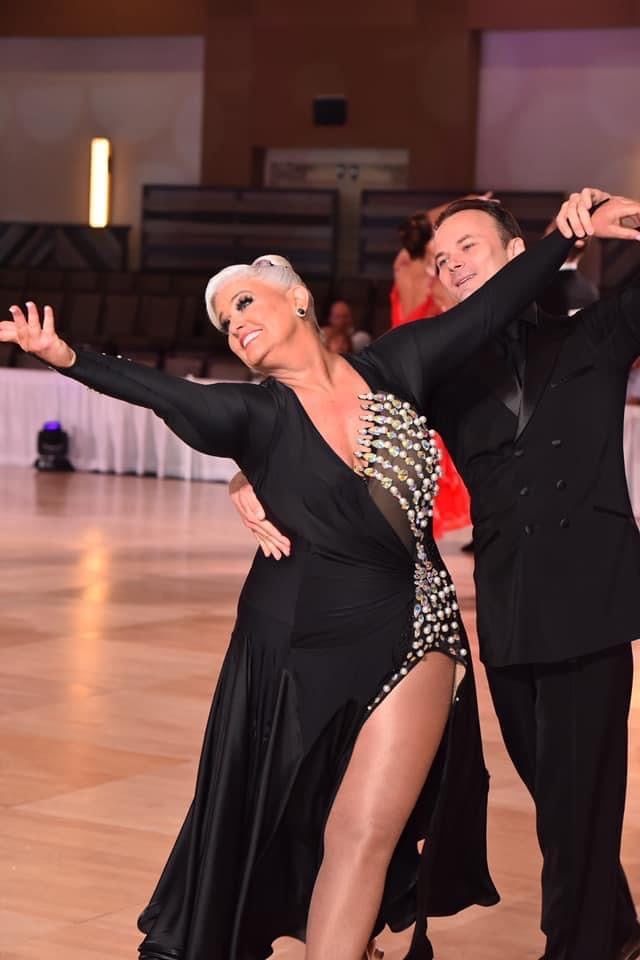 Of course, we had to ask Mara about her viral internet fame. "I love the performance aspect of dance, but I struggle when I am the center of attention. I'm more introverted, so dance requires me to challenge myself and grow in ways that the rest of my life doesn't". Viewers filled comments on Mara's post with encouragement, positivity, and LOTS of fire emojis 🔥🔥🔥.
"Dance tends to demand physical perfection", Mara explained honestly. "That's something I struggle with because self-image issues are very deeply held for many performers." Mara wondered if her video became so popularized "because I'm an example of someone loving dance and expressing myself later in life, and someone who isn't [physically] perfect. I think there is a place for inclusion in ballroom dance. For example, I was so thrilled when they allowed same-sex couples to compete - everyone deserves to experience this joy and growth. A welcoming environment is so important".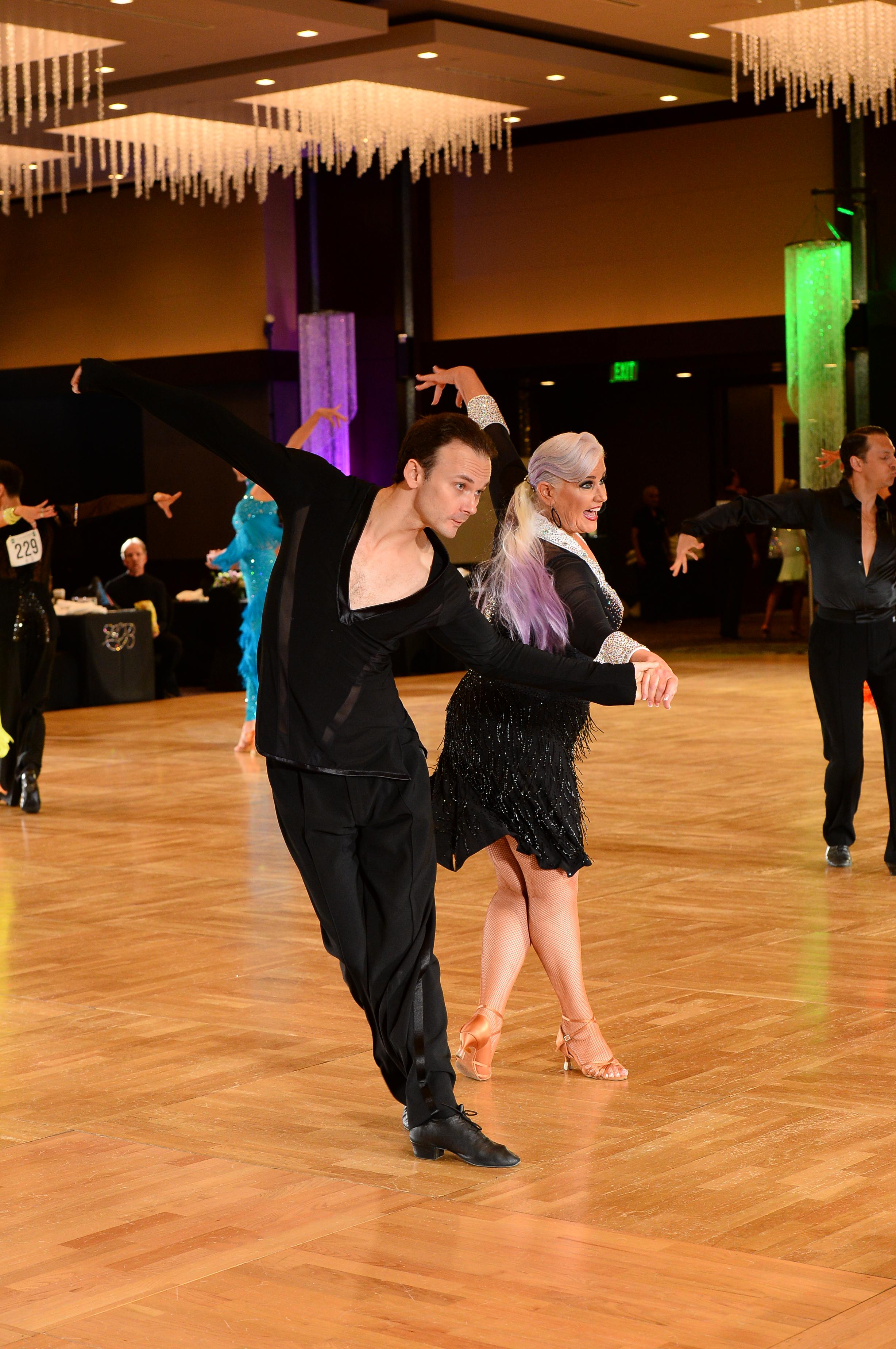 As an introvert, internet fame was not comfortable for Mara. "I tried not to read the comments too much!" Mara laughed. "But it makes me so happy when people who see me dance feel something. It is so gratifying. I get more of a high from knowing [that someone in the audience enjoyed my dancing] than from scores from the judges or results. When the audience responds, that is what impacts me".
Speed Round
We asked Mara the need-to-know questions that all dancers want to hear!
Who has been instrumental in your dance growth lately?
"My coach, Alex! He has been so important to my development over the years. He is super committed to my growth, supportive and kind, but knows when to push. I would not be feeling as good about my dancing now if he did not approach his role so patiently, kindly, and professionally."
What is your favorite dance?
"Agh, it changes every day. Foxtrot, but if you ask me tomorrow, it might be different. I'm enjoying exploring the jazzy aspect of it."
What is a challenge that you are facing in your dancing right now?
"I'm focusing on speed and cadence of turning to make them quick, crisp, and variable."
What is a success that you have been proud of recently?
"The viral video [Mara laughs]! No, Emerald was my most recent comp, I focused on bringing a lot of energy to the floor, and that made a difference for me. I was delighted with the level of intensity I was able to put on the floor at Emerald."
Who is a dancer that you look up to?
"Nazar Norov, he and Irina were so awesome. So dynamic, expressive, and crisp."
What is one thing you want to say to our readers?
"My piece of wisdom would be to spend time with something that makes you grow: it's not always easy or the default, but spend time with an activity that requires you to grow as a human being."