Intrigued by bright lights, sparkly costumes, and vivacious judging panels, the American public has become increasingly fascinated with the world of ballroom dance as depicted by popular television programming such as Dancing with the Stars and So You Think You Can Dance.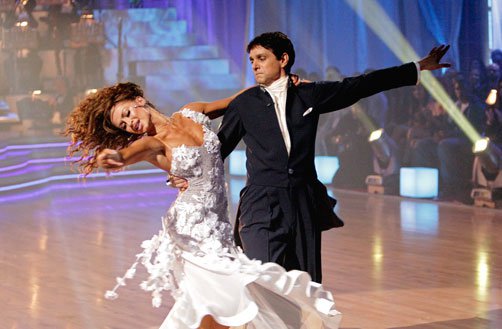 Dance Vision Instructor, Karina Smirnoff, dances with her celebrity partner, Ralph Macchio, on the 12th Season of Dancing with the Stars.
These shows have done a phenomenal job popularizing the art and athleticism that is ballroom dance, though they are just the tip of the iceberg of the ballroom world. Underneath the surface of ballroom dance on television is a vibrant, competitive, and exciting community of dancers spanning all levels and age categories.
If you've ever found yourself wishing to Waltz, or saying "I've always wanted to try," you're not alone. Whether it was a childhood dream to dance for an audience, or a recent inspiration to step onto a dance floor, this introduction to the world of ballroom dance is here to serve as inspiration into this journey, with or without a partner.
Types of Ballroom Dance
If you are new to ballroom, you may be familiar with iconic dances such as Salsa, Cha Cha or Tango, shown in movies like Shall We Dance or Strictly Ballroom. Within the ballroom community, we consider two main types of "Ballroom Dance", each containing two styles. International is made up of the Latin and Ballroom Styles and American is made up of the Rhythm and Smooth Styles.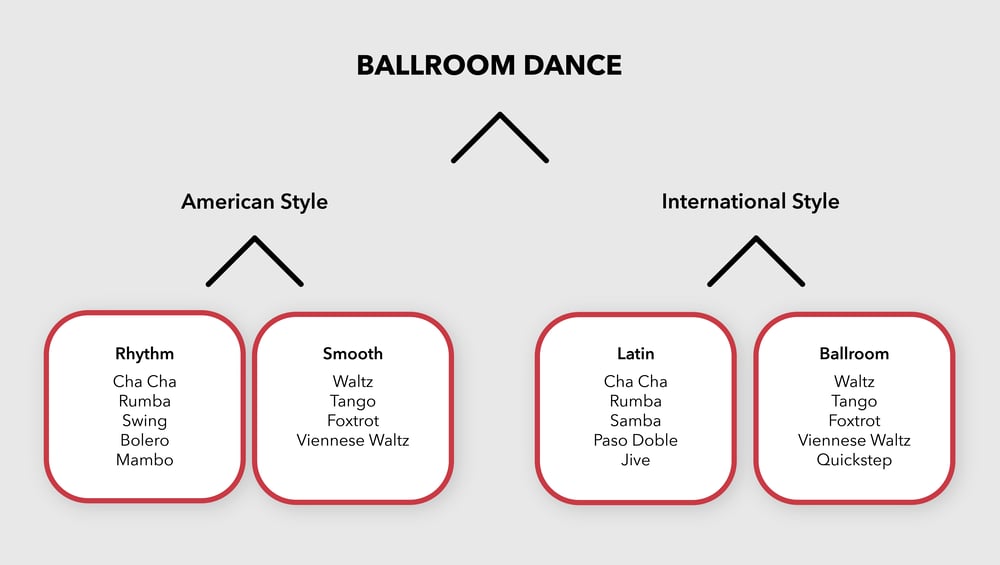 International Latin is known for its high energy, fast movement, and engaging music throughout its five dances – Cha Cha, Samba, Rumba, Paso Doble and Jive. It's uniqueness derives from its technique, which requires dancers to step onto a straight leg (versus Rhythm in which you step onto a bent leg). International Ballroom, originating overseas, is the most classic form of ballroom dance, and it is likely what you imagine when you picture a ballroom dancer in your head. Like Cinderella waltzing at the ball, the International Ballroom Style includes five dances that are danced in closed hold for their entirety. Waltz, Tango, Viennese Waltz, Foxtrot, and Quickstep are elegant and poised, as dancers maintain a closed "dance position," without letting go of one another throughout the whole dance.
The American Style of ballroom dance was popularized in the (you guessed it!) the United States. Derived from social dancing, the American Style is now both social and competitive. While the International Style is also danced socially and competitively within the US, the American Style has greater popularity.
American Rhythm is the sister style of International Latin, and includes the Cha Cha, Rumba, Swing, Bolero and Mambo. The biggest difference between these two styles is simply the expression of the dances, how they are portrayed by the dancers, and subtle differences in technique. American Smooth, the fourth style under the umbrella of ballroom dance, is a combination of International Latin, Ballroom, American Rhythm, and other dance styles such as jazz and contemporary. Unlike International Standard, Quickstep is not included, therefore the style is composed of only four dances, Waltz, Tango, Foxtrot, and Viennese Waltz. Another primary difference between American Smooth and International Ballroom, is that it is not regulated that dancers maintain closed dance position for the entire routine. Dancers flow into and out of dance position with grace, integrating elements of other dance styles in between. Within both the social and competitive setting, American Smooth is exploding due in part to the freedom that it gives dancers to explore a realm of styles and engage in extremely creative movement patterns.
For each of the four unique styles, there exists a dance curriculum, which the ballroom community refers to as a syllabus. The syllabus, ours is referred to as the Dance Vision Syllabus, provides a general framework of figures, patterns and technique that dancers should know as they progress in their learning. Similar to the belt system in Karate, each dance style is broken up into a progressive learning system of Bronze, Silver, Gold...so you can grow from beginner to advanced. While the Dance Vision Syllabus provides a great starting point for new dancers, it is the fulcrum of technique and excellent dancing for advanced dancers alike—the possibilities are limitless within the basic movements of ballroom dance!
Intrigued yet? While dance can be incorporated into life through countless ways, generally people approach ballroom dancing in two different directions: socially or competitively (though there is no reason it can't be both!).
Social Ballroom Dance
Many children and adults alike are introduced to ballroom dance in the social fashion. Social dance can be likened to intramural sports—there are ample opportunities to socialize, practice skill acquisition, and enjoy the fitness benefits of ballroom dance, without competition as the focus.
To get started, we suggest you seek out opportunities to dance socially within your community, with or without a partner. Most local ballroom studios host group classes, weekend dance parties, and even private, one-on-one coaching. New dancers can start out with one or two classes per week that may focus on the fundamentals of a single dance such as the Cha Cha or Waltz, moving on to other dances as you progress through the curriculum. If you're interested in getting acquainted with a few figures before heading to your local studio, try our 7-day free trial and get your dancing feet wet.
Just like with other sports, ballroom dance includes opportunities to practice your dancing within a competitive setting if you're open to more of a challenge.
Competitive Ballroom Dance
When you see ballroom dance on a television show like Dancing with the Stars, you may notice an audience clapping and cheering, shining costumes, and vivacious music. Competitive ballroom dance contains all of these elements and is referred to as "dancesport" within the industry. Dancers have the opportunity to wear colorful costumes encrusted with thousands of rhinestones, to do their hair and makeup to the nines, and to go head-to-head against other partnerships in the same age/level category. For example, "Newcomer" events are specifically developed for dancers new to the competitive realm, so that they can compete against other new dancers.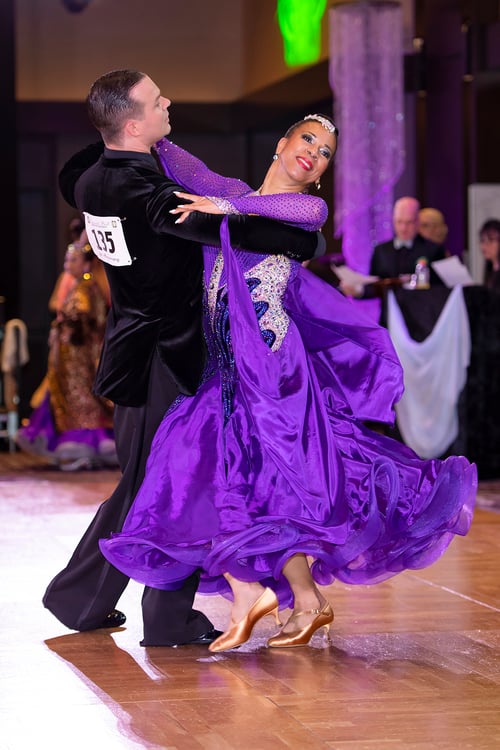 An Amateur competitor dances in an International Ballroom event with her Professional Instructor at 2019 Emerald Ball Dancesport Championships in Los Angeles, California.
Interested in dancesport, but don't have a partner? Not to worry, there's a competitive category just for you! "Pro-Am," short for Professional-Amateur, is a category that spans all levels and age groups within competitive ballroom dance. The Pro-Am category provides student dancers (also referred to as "Amateur" dancers) the opportunity to compete with their instructor (a "Professional" dancer.) This category is of great popularity because it provides dancers, ages 2 to 102, the comfort and flexibility of dancing with their instructor alongside the opportunity to improve their dancing in a competitive setting. In fact, when you attend a dance competition, this is what the majority of the event includes. Pro-Am dancers can spend an entire competition dancing with their teacher across any style of ballroom, in any level!


A Career in

Ballroom Dance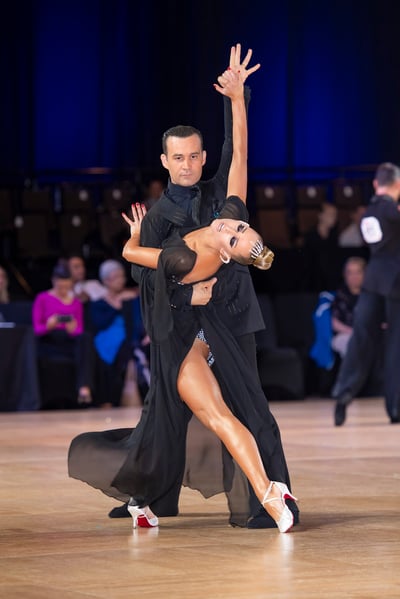 Dance Vision Instructors and United States Vice Champions, Tatiana Seliverstova and Max Sinitisa compete in the Professional American Smooth Event at the 2019 United States Dancesport Championships in Orlando, Florida.
You might be wondering what some professionals/instructors do when they aren't teaching and/or competing with their students...each of the four dance styles, International Latin and Ballroom, and American Rhythm and Smooth, include Professional competitive events. Professional dancers are like the professional athletes in other sports. They can be recruited to dance in different parts of the country or world, spend significant amounts of time training in their dancing, and travel in order to compete. Professional dancers can be full-time teachers, or long-time dancers who have careers in other industries and dance professionally on the side. For many Professionals within the dancesport industry, this career involves frequent travel to both train and compete at different events with their students and professional dance partners across the country and world. That being said, some instructors choose not to compete—the possibilities are endless with a career in ballroom dance. If you have interest in becoming an instructor, click here.
So there you have it, the insider look into ballroom dance behind the curtain of televised programming. The social and competitive ballroom dance industry, while less known than other sports and hobbies, can be just as exciting and competitive. We hope that this post, while a small glimpse into our world, intrigues you and that this article provided you the opportunity to waltz through popular questions surrounding ballroom dance. We have a feeling that you will find yourself itching "tan-go" to a dance studio in the near future…