One of our favorite beauty gurus is back and better than ever—on November 4, 2021, we welcome Hope Jackson for a ballroom makeup workshop, open to Dance Vision members. Whether you're planning for a studio showcase, competition, or just hoping to glam up for those weekend social dance parties, sharpen your skills in this 60 min Zoom class.
Psst...if you missed the live class, don't worry it will be available to watch in our library (or to refer back to in the future!).
Professional Latin dancer, mom of two, and ballroom beauty connoisseur, Hope, has prepared a list of her "must have" beauty favorites that will help you create a flawless ballroom look every time. Don't have the exact item in our list? Not to worry worry, Hope gives recommendations that you may have in your very cabinet.
Get ready to stretch your creativity, learn a new skill, and be on your way to becoming a ballroom beauty expert.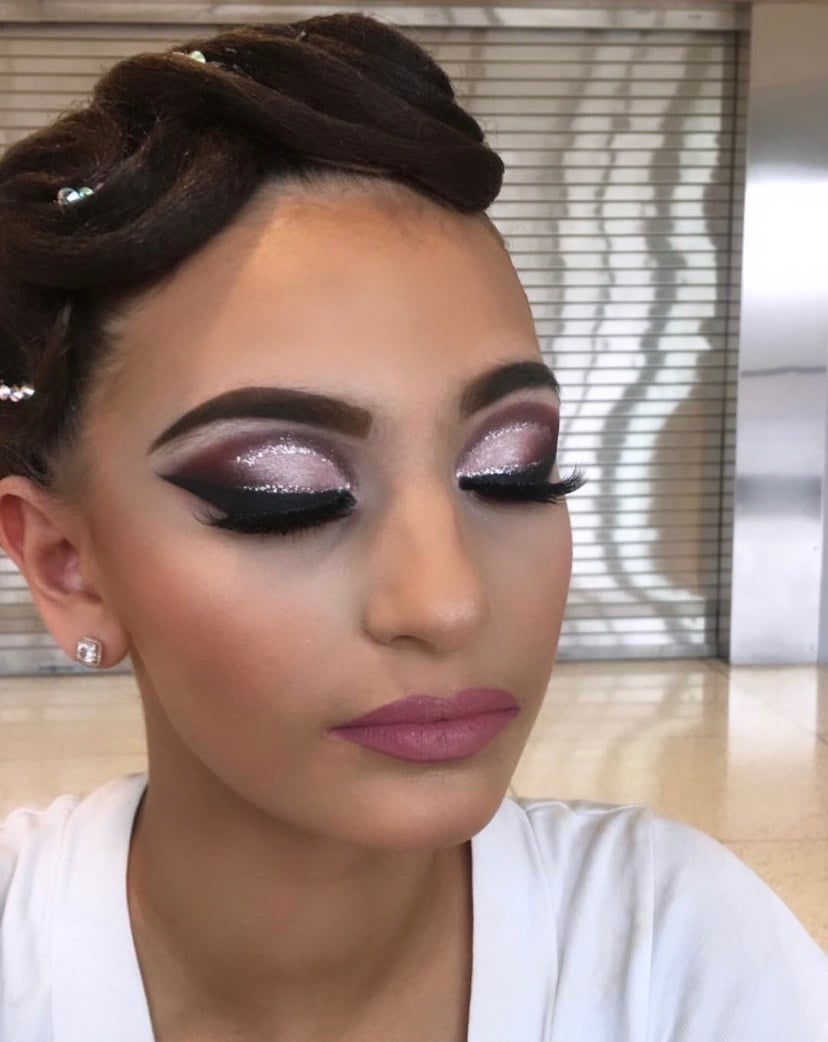 Makeup by Hope
Hope Jackson's Makeup Masterclass Product List
Note: Hope may use other products not listed here in her workshop (artistic license!).
Tools
Scotch tape or clear athletic/first aid kit tape
Small cosmetic scissors
Mirror


Brushes
Beauty Blender Sponge, medium size, egg shaped
Flat concealer brush
Eye shadow blending brush
Eyeliner/eyebrow brush (angled)
Foundation brush
Contour or bronzer brush
Face Products
Transluscent or "banana" yellow-toned setting powder (Hope uses loose powder but pressed powder works too!)
Eyeshadow Primer
Foundation

Hope's Tip: find a shade that matches your tan, which will perhaps be darker than your normal everyday color or skin tone.
Hope's Pick: Huda Beauty Faux Filter (not a great pick for sensitive skin as it is scented) or Too Faced Born This Way (better for sensitive skin)

Concealer
Contour/Bronzer
Blush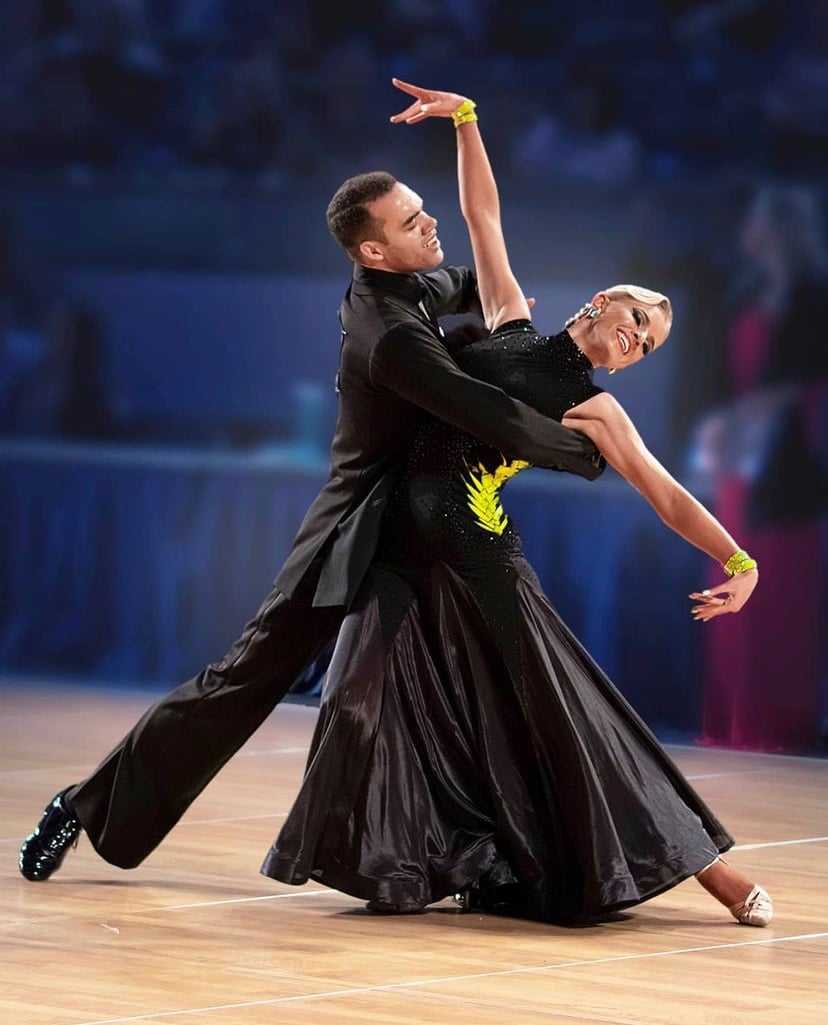 Makeup by Hope. Dancers: Joseph Nugent and Kyla Zenger. Photo: @bigbluefox.
Top Ballroom Beauty Tips
After Hope's workshop, we collected her top tips for the best ballroom beauty ever!
1. Eyes first - Face makeup second - makes it easier to clean up any "fallout" from eyeshadow.
2. Eyebrow Hack - put hairspray on a spooly or eyebrow brush to hold brows in place all day long!
3. Use concealer around your eyebrows to "carve out" the perfect eyebrow shape. It's like an eraser!
4. Utilize tape to get that perfect winged eyeliner and eyeshadow makeup shape - apply underneath lower lash and then create a straight line up to the end of your eyebrow.
5. Press a powder on top of eyeshadow primer to create more adhesiveness when doing an eyeshadow look.
6. When using a transition shade (the eyeshadow color that you use to blend all of the other colors together with), start at the middle of the pupil and work outwards.
7. Matte eyeshadow powder creates more dimension within the eyeshadow look.
8. Shiny/glittery eyeshadow highlights and accentuates that specific area.
9. Blend, blend, blend the eyeshadow to create a seamless look that's less fragmented .
10. When blending, use a fluffy blender brush. Swirling with a blender brush will give a more blended look than a straight edge brush.
11. Gel liner has more staying power versus a liquid liner (liquid or pencil liner can crack or smudge).
12. In a pinch, lotion can be a great makeup remover. Put a little lotion on a concealer brush and swipe is where you want to make small corrections on your eye-makeup looks. Be careful to use a sensitive-skin lotion and not get it too close to your eye!
13. Hope recommends concealer before foundation for a seamless look.
14. Place bronzer along top of hair line, cheekbones and jawline.
15. Putting loose or pressed translucent powder around mouth and chin will help to keep it in place as we smile and make expressions while dancing.
16. Keep bronzer on your cheekbone - try to avoid the apple and most round point of your cheek.
17. If possible, do your makeup before hair. This helps to keep hairline nice and clean .
18. Adding mascara before applying lashes allows lashes to become stiff which helps the fake lash sit easier on the lash line while applying.
19. If you're in a rush, dark eyelash glue is preferred because you won't have to wait for it to dry clear.
20. Pinch fake lashes into real lashes to blend them together.
21. Start lip liner right in the v of your top lip then draw down to shape and frame the top lip on either side. Use the lip liner to fill the lips in, which will allow lipstick to stay in place. After lining the top lip, start in the middle of the bottom lip and move up toward the corners, filling in lip liner the same way on the bottom.
22. When applying lipstick, apply from inside to outside corners.
23. If you have narrow eyes, look into the cut crease technique for eyeshadow - it can open the eyes up!
Many thanks to Hope Jackson for her amazing tips and tricks! In the meantime, get your body moving and your dance inspiration flowing with Dance Vision.
Click the link below to access your 7-Day Free Trial!