What is the Dance Vision Membership?
Welcome to Dance Vision! We are excited to help you discover the power of ballroom dance.
Our membership centers around an annual subscription empowering dancers to access top-notch ballroom instruction from anywhere in the world. With our website and app you have the ability to cast everything to your home or dance studio TV.
The world of ballroom is at your fingertips!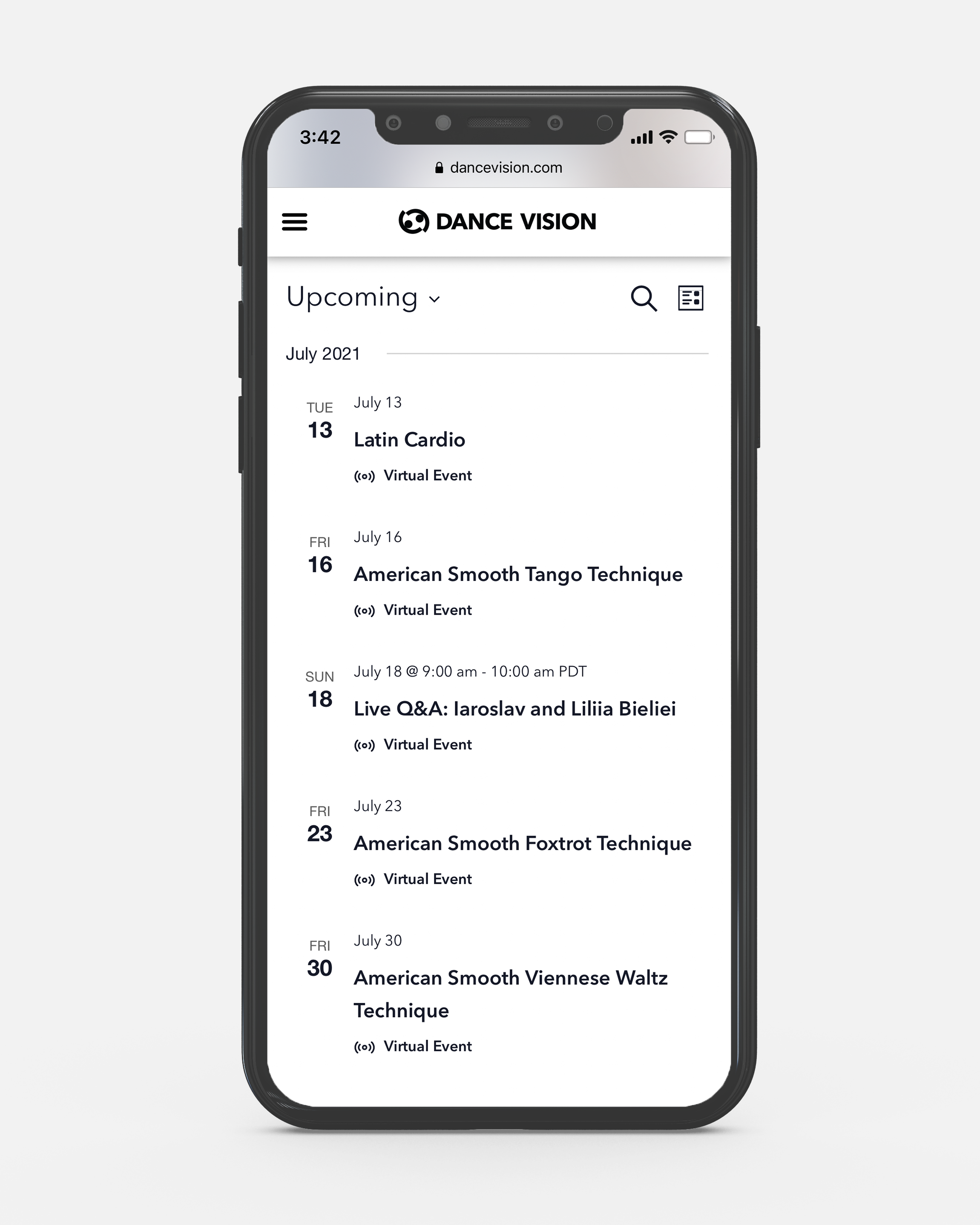 How will we help improve your dance education?
Digital Content and Manuals
Instruction from Bronze to Gold

Footwork, timing, dance position, and more are taught by our DV instructors across every dance style, including social styles such as Country Western and Nightclub dances. Reference part of a step or learn something brand new, your options are limitless!
Prefer to reference written content when learning? Our library also includes all Dance Vision Syllabi text manuals from Bronze to Gold across most styles.

Technique and Choreography
Fitness and Stretching

A few of our instructors are also certified fitness instructors! We believe in the power of connecting the body, mind and soul in dance, which is why we seek to provide a plethora of classes to challenge every aspect of your being and make you feel good!
Attend Events
We had the best time at our inaugural Dance Vision National Championships in November 2021. This event, and future exclusive DV events to come, allow certified Dance Vision instructors and their students (that's YOU!) to attend workshops, compete, and create lasting friendships.
Check out our event calendar to find out what's up next!
Oh, the Places You'll Go!
We're committed to providing you opportunities to achieve your dance goals! As a Dance Vision member, you have the opportunity to participate in student medals exams. Exams are available from Bronze to Gold (and even for show dances!), in every style. Medals exams are an opportunity for you and your teacher to dance your routines in front of a certified examiner, receive feedback, and move on towards further levels!
Let's Be Friends!
While you don't have to be a member to enjoy our social media content, we are excited to create value for you across multiple platforms! On all of our social platforms, you can access brand new content premiering on the app, see announcements about our events and experiences, as well as collaborate with our Dance Vision members, instructors, and examiners!
But wait, there's more!
Still not sure about a membership? Check out some of our articles discussing the power of ballroom dance!
Wondering how ballroom dance helps your brain stay young?
Curious about the world of competitive ballroom dance?
Learn even more on our Dance Vision Blog!
Together is Better
We're creating increased value for dancers like you. We want Dance Vision members to be equipped with the materials and support necessary to foster growth as a person, and a dancer. The bottom line? Regardless if you're an aspiring dancer, or a seasoned vet, belonging to Dance Vision helps you achieve your dance goals!
Are you ready to be limitless with Dance Vision?