Once more, the Grand National Championships astounded us with its enchanting tempo at their extraordinary 4-day event held in October. Delve into the details of one of the United States' foremost
ballroom dance competitions
.
2023 Recap
The Grand National Championships 2023, dubbed as the "ultimate vacation," unfolded from October 26th to 29th in Miami, Florida, featuring a fusion of passion and innovation. Led by the incredibly gifted pair Peter & Cassandra Schneider, this iteration of the Grand National Championships dazzled, exceeding all expectations. Beyond being a mere dance exhibition, the event underscored Peter & Cassandra Schneider's vision in the world of dance. There's no denying that it was an extraordinary display to observe.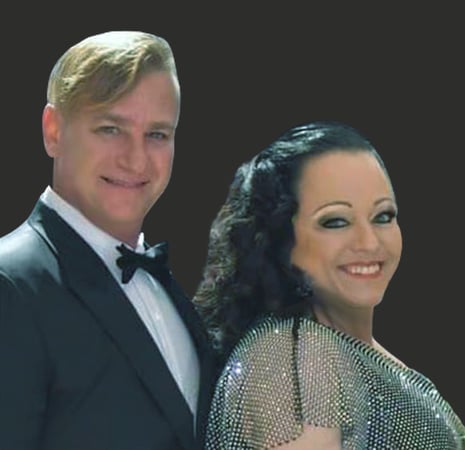 The organizers, Peter & Cassandra Schneider
📸: https://www.facebook.com/cassandra.valeria

Starting on October 26 at 3 PM, Session 1 introduced American Rhythm NEWCOMER & BRONZE levels and American Rhythm Multi-Dance events, followed by a festive Night Club OKTOBERFEST 2023 where attendees were encouraged to dress in Bavarian attire and savor beer, pretzels, Bratwurst, Lebkuchen, and lively salsa music, along with Night Club Closed & Open single dances. The dance extravaganza continued on October 27 at 8 AM with Session II, featuring International Ballroom competitions, Amateur International Ballroom, Solos in American Rhythm & International Ballroom, and American Rhythm categories. Session III, held at 8:30 PM on the same day, brought International Ballroom Amateur, Rising Star Professional, and Open Professional Events. The following day, October 28, at 8 AM, Session IV encompassed American Smooth, Amateur American Smooth, Solos in American Smooth & International Latin, International Latin, and their Multi-Dance events. The day concluded with a Gala Dinner & Top Awards Ceremony from 7:30 PM to 9 PM, followed by Session V, which featured International Latin Amateur and Open Professional Events in the evening.

Here are several images showcasing the award winners from this dance competition.

"CHAMPIONS IN ALL 4 DIVISIONS"
📸: https://shorturl.at/emwX2

These photographs showcase some of the most exceptional and dazzling moments captured on the dance floor at the Grand National Championship!
📸: https://linkmix.co/19593671

Prepare for an exhilarating journey! To stay up-to-date with all the exciting updates and announcements of the Grand National Championship, be sure to follow them on Facebook and keep a close watch on their official website. Don't miss a single moment of the action!