Dance Vision Member, Linda Morse Bourgeois is vivacious, spunky, small in stature, but bursting with life. After her retirement from a 40-year career in public relations, she adored golfing with her husband, tending her rose gardens (they're award-winning, by the way!), and serving her grandmother duties; something she speaks about fondly. Her heart was full.
That's until Linda lost her best friend and life partner. Her husband passed, and with that came insurmountable heartbreak.
Like many before her, Linda reluctantly stepped into a ballroom dance studio in search of something after her tremendous loss. She was 69 years old, had never taken a ballroom dance class, and she'd definitely never tried dancing with her husband—doing so with a six-foot-six NBA basketball player poses quite the challenge when you're Linda's height, "It was just not possible!" she laughed. Little did she know, she'd become a regular at this studio and find a new sense of meaning in what formerly may have seemed like the most unlikely of places.
Her first ballroom experience: a Groupon deal that her friend invited her along to. "She ended up meeting her new husband in the class," chuckled Linda, "I just stuck with dance!" A testament that dance just may fill the heart in more ways than one. "Dance became my life," her eyes lit up and her cheeks swelled with a warm smile. She didn't even have to audibly say it. We just knew.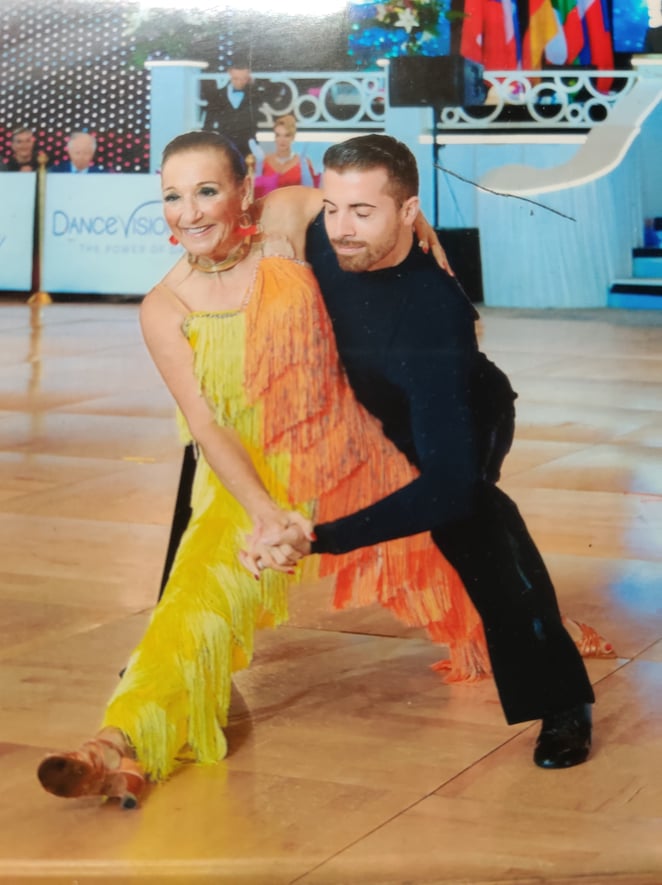 After one year, Linda had attended 10 Pro-Am competitions across the United States with her professional partner, Riccardo Pacini (one of which she attended six weeks after heart surgery—yes, you read that correctly!) To date, she's driven over 48,000 miles to practice with him, as he lives in another town. The gratitude she extends towards Riccardo is overwhelming, "teachers are the lifeline to being a competent dancer. Riccardo started me at zero." Look at her now—Bravo, Riccardo.
Linda has also taken a liking to at-home virtual classes with World Latin Champion, Ina Jeliazkova. "Linda has been one of the greatest gifts for me the past year. She inspires me with her tireless commitment and love of dance, and is one of the most wonderful human beings I have ever had the pleasure to meet," Ina said.
For Linda, the feeling is mutual. "Ina really changed my view on dance," she beamed, "she told me, 'When you step on the floor, you are the dance' and I love that."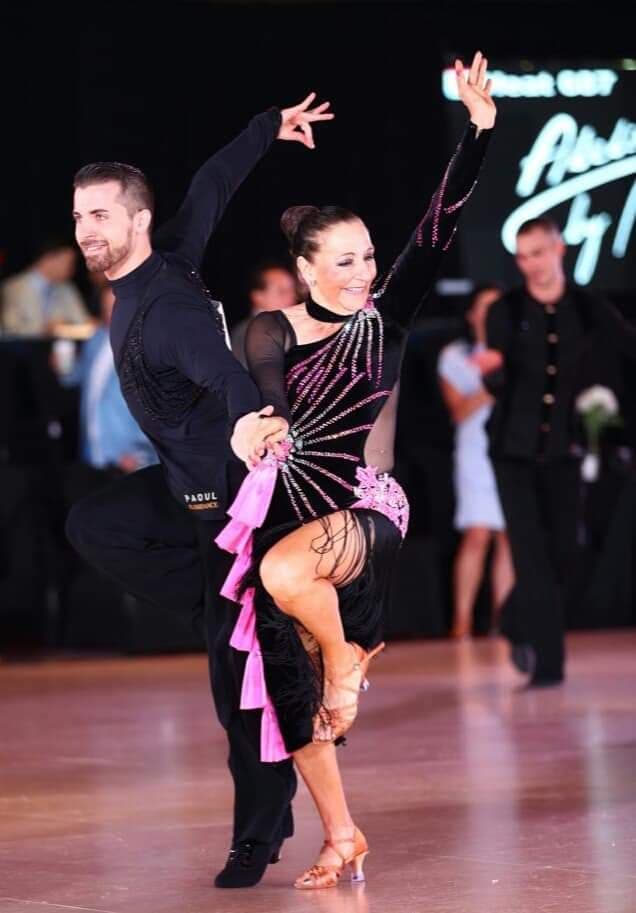 We've seen her in action, and it's no doubt Linda becomes the dance when she steps on the floor. Even beyond that, her heart carries a joy which shines with a zest for life far beyond the planks of wood.
So Linda, this ones for you. Thank you for reminding us that if you "dance with your heart, your feet will follow."
Linda's take on our most asked questions.
What is your favorite thing about dance?
"I've added 20 years to my life! I AM younger than I was before I started dancing."
Do you have a favorite dance? Why?
Linda loves the Paso Doble! When she first learned this passionate dance, she felt stuck, challenged to encompass the illustrious characters of the Spanish flamenco dancer and the undulating cape. She gained a newfound appreciation for this style with the help of her teacher, Ina—Linda came to understand that the Paso allows her the opportunity to play a unique character. She ran, well, danced, with this idea, and has now been told she encapsulates the fiery character of the Paso Doble within her soul...a perfect example of how challenges can unveil your strengths.
What is a goal you have for yourself in your dancing for this year?
For many competitive ballroom dancers, attending the iconic Blackpool Dance Festival in the United Kingdom is a dream. It's no surprise that Linda will turn this dream into a reality—she plans to compete at this prestigious competition, among other international events, this year. We're hoping we can fit in her suitcase to cheer her on.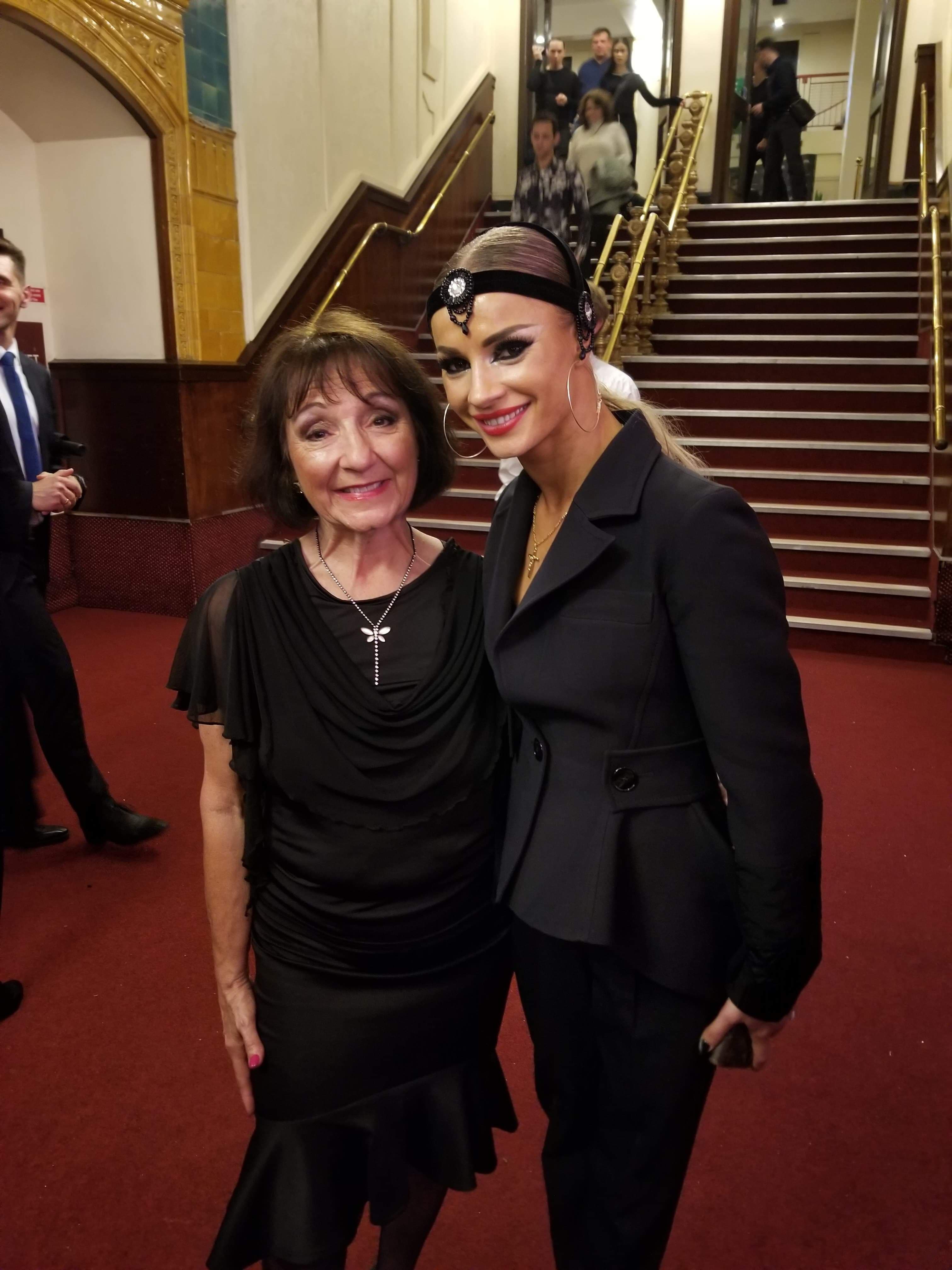 Any last words?
Linda may have began her dance journey a little later in life, but she's a shining example that dance knows no age. She encourages those, especially seniors, to get on the dance floor. "If dance is in your soul, you'll know!"
Are you ready to start your dancing journey?