As dancers, there is a single tool that we require as part of our activity. Whether you are a new dancer entering into the world of ballroom, or simply looking to try out a new brand of shoe, step through this article to learn more.
Types of Ballroom Shoes
There are different shoes to support each style of Ballroom Dance. In Latin/Rhythm, both leaders and followers wear a higher heel. This supports a forward-weighted posture that allows dancers to place their body weight over the balls of their feet, and move their feet quickly underneath their body. Followers shoes are open-toed, allowing them to grip the floor during speedy movements and to articulate their pointed feet.
In Smooth/Standard, leaders typically wear a half-inch heel on their shoes, similar to the heel of a men's dress shoe. Followers wear a closed toe within these styles which protects the foot as they frequently travel backwards.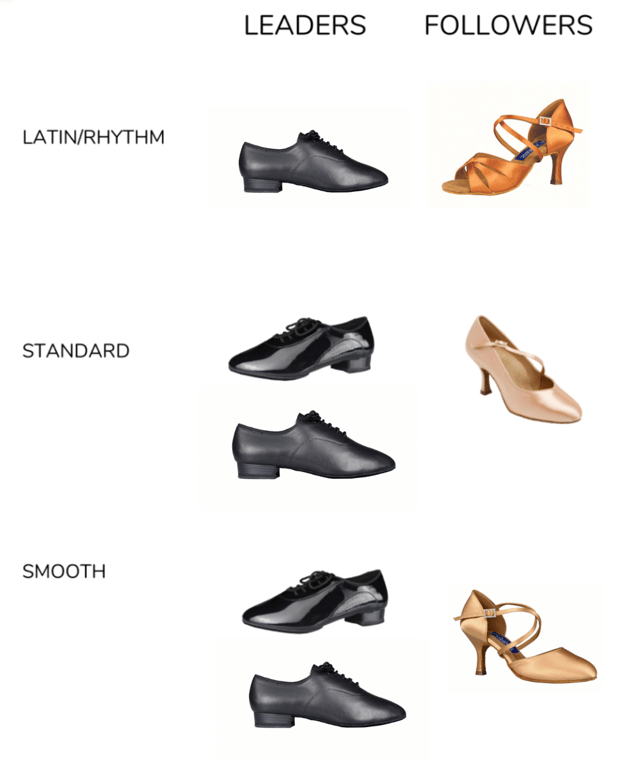 Heel Height and Shape
As a follower, there are numerous options for heel height and shape when shopping for a shoe. If you have an instructor, they may have a suggestion of a heel height based on your skill level. Common heel styles are flare and stiletto: stiletto heels are more commonly purchased by advanced dancers because they offer less stability and more aesthetic to elongate the line of the leg and foot. Flare heels are great for newer dancers or anyone wanting more stability out of their shoes.
As a leader, heel height is consistent across ballroom and smooth shoes. A half-inch heel is common as it allows for proper movement and technique. A 1.5 inch heel is common within Latin and Rhythm shoes.
How Do I Know if My Shoe Fits Correctly?
The biggest mistake new shoe-buyers make is buying their dance shoes in the same size as their street shoes. Dance shoes are meant to fit snug, because they will loosen and stretch over time to mold to the shape of your foot. Not to mention, there are special considerations between styles of shoe and how they should fit, especially for the follower. For example, Latin and Rhythm shoes should allow the toes to be exactly at the edge of the shoe so that when a dancer points their foot, there is no extra shoe dangling past the toes. Followers will oftentimes wear different sizes of shoes between Latin/Rhythm and Standard/Smooth.
Different brands of shoes and types of shoes will inevitably fit each person differently. Dance shoes are designed so that they can fit like a glove—many brands come in various widths, lengths, and can even be custom built to make sure that they support your foot.
Should Dance Shoes be "Comfortable"?
You might have gotten to this point and are thinking "Heels? How long am I supposed to wear those for?!" - never fear! Dance shoes are constructed to be worn (while supporting your foot) for a longer period of time. As opposed to every day heeled shoes, there are many options beyond just size to ensure that dance shoes are comfortable on your foot and allow you proper flexibility and mobility. Many brands produce shoes with varying toe box and heel cup sizes and styles, widths, and straps - all to ensure you are not uncomfortable in your dance shoes.
When you're wearing dance shoes for a longer period of time, you might still experience some soreness - probably from all that hard work on the dance floor 😜! If this happens, you can always swap to a practice shoe or take your shoes off and stretch for a little. After dancing, rolling your feet out with a tennis ball or giving them a soak in epsom salt can be very helpful to decrease swelling or inflammation.
What Differentiates Shoes Across Brands?
We profiled six different ballroom shoe brands in order to identify what makes each brand unique. Hopefully this will allow you an opportunity to narrow down what kind of shoes you are interested in! Click on the brand name if you would like to check out the brand website further - you can buy all of these dance shoes online, or check out store locations or competitions featuring shoe vendors.
Brand
Location
What makes them unique?
Dance America
Florida, USA

American shoe sizing
Moisture wicking insole with memory foam padding
Graded heel height options
Heel attachment inserts for follower's shoes (don't have to take them to shoe repair!)

Aida
New York, USA

Come in 3x narrow and 3x wide
Offers special order if feet are two different sizes
Supportive heel and arch, more flexible bottom shank and toe pad
Ladies Latin and Rhythm shoes are available with extra arch support

Crown Dance Shoes
California, USA

Heel heights and styles come across many varieties
A completely custom made shoe is available
Made in the USA
Flexible Shoes
Brand is known for their ability to get shoes to perfectly match your feet

Freed
London, UK

Known for customization
Started out as a pointe shoe brand and have great understanding of the anatomy of the foot and how a shoe should fit

International Dance Shoes
Buckinghamshire, UK

Stiffer heel and within the shank (more supportive of the ankle), gel-like sole
Shoes go up to 3x narrow and 3x wide

Ray Rose
London, UK

Sport-orthotic sole and toe pad
Heel cups for both leader and follower shoes have an anti-slip design
Heels are strong and made from polycarbon
Flexible shoe outside of the heel cups

Supadance
Essex, UK

Many styles of heel shape
Offer specific widths for certain styles
Moderately stiff shank, but bends well after use
Sturdy heel cup
FAQs
How Long Can I Expect My Shoes to Last?
This is dependent upon the frequency and intensity at which you are dancing. For those dancing upwards of four days a week, shoes may last six months to one year. For those dancing a few days a week, they may last one to one and a half years. Leaders' Standard and Smooth shoes tend to last the longest of any category!
How Can I Care for My Shoes So They Last Longer?
It is a great idea to invest in a shoe brush to support the upkeep of the suede bottoms of your shoes. Ballroom shoes are made with suede to provide traction on the dance floor and promote a safe surface for cutting and turning. Over time, suede can get pushed around, lumpy, and soft because of foot pressure (this means you are dancing well and is completely normal!). In order to regain traction, give brushing your shoes a try!
How Do I Break in New Dance Shoes?
The best way to break in dance shoes is...by dancing in them!
If you are new to dance shoes, wear them until they begin to feel a little uncomfortable (try to identify this moment before any blisters happen!), and then switch to your other shoes (more ideas on what those could be below!).
If you are a seasoned dancer, don't toss your old shoes until your new pair is broken into your liking. Use the same tactics mentioned above: wear your new shoes until you are on the brink of discomfort, and then swap to your old shoes which are already broken in.
Here are some other helpful tips from dancers in our community:
Use a blister/heel guard on the parts of your feet that are more likely to get blisters.
If you do not want a rigid shoe, you can break the shank of the dance shoe in order to start the process of the shoe molding to your foot.
I'm New and Don't Have Dance Shoes Yet
Proper dance shoes have suede soles, which are designed to keep your feet and joints of the leg/foot safe by providing traction. Of course, most people don't own these when they begin dancing! To start, we recommend leaders wear a dress shoe or shoe without a rubber sole. For followers, we recommend a comfortable (short) heel, or a pair of flats. It's a good rule of thumb to steer clear of rubber soles on hardwood floors!
Can I Wear My Dance Shoes Outside?
Dance shoes are typically made with suede soles. Suede does not interact well with surfaces other than hardwood (and sometimes marley). We recommend NOT wearing dance shoes outside regardless. Sometimes you're running into or out of the studio, though - instead of being tempted to keep those dance shoes on while you run to the car, throw a pair of flip flops or other sandals in your dance bag. This also comes in handy when you're leaving the dance studio and it is hot outside - nobody wants to put on closed toed shoes for that!
What Are Practice Shoes? Do I Need Them?
If you are dancing frequently, practice shoes allow your feet to rest between practicing in regular dance shoes. They're not absolutely necessary; In fact, it is preferred by most instructors that students wear regular dance shoes within their lessons and practice time with partners to create consistency within your dancing. When practicing alone, practice shoes are a great option to maintain longevity of your shoes as well as the physical health of your feet! All major shoe brands carry practice shoes. They are available in split sole varieties as well as full sole options.
Check out some popular styles here!
What are Heel Protectors? Do I Need Them?
Heel protectors are clear cups that sit over the heel cap of a follower's dance shoe. Their purpose is to prevent completely worn shoes as they scrape a dance floor with the nail that is located at the base of the heel. If you do not wear heel protectors, you can be cognizant of when the heel is wearing down and take it to any shoe store—they can repair it quickly and it is inexpensive.
Other Tips and Tricks
Shop for shoes in the late afternoon. Your feel naturally swell throughout the day, and so trying on shoes in the morning will likely provide you with a shoe that is too tight when you put it on later.
Try a variety of shoe brands on before making your decision—every shoe fits each foot differently. A certain brand may suit your instructor, but not be right for you. That is absolutely OK!

Just like developing a practice schedule, finding the right shoes can be a little time consuming, but is worth the effort when you find exactly what works for you. Great shoes are an investment, but one that you definitely want to make if you are dancing a lot!
While this blog by no means contains everything about dance shoes, we hope it starts you in the right foot (no pun intended)! If all this talk of shoes is making you think about what else to wear to a ballroom dance lesson, we've got you covered!