Highlighting some extraordinary historic Black dancers whose influence is still evident within the ballroom dance world—are you aware of these trailblazers whose legacies transcend generations of dancing?
Margot Webb and Harold Norton
Paving the way for other Black dancers, Margot Webb and Harold Norton, became known by their professional name, "Norton and Margot" in the 1930s and 1940s. Often turned away from performances because they were Black, they were known to dance under other aliases so venues would allow them to perform. Despite these circumstances, this ballroom dance couple found fame across the African American Vaudeville Circuits, throughout Harlem theaters and clubs, and before WWII, across London, Paris, and Germany. In this time period, it was uncommon that Black dancers performed styles such as Waltz, Tango, and Bolero. Fans described their dancing as "soulfully graceful, smooth, polished…regarding it as the highest standard of classic dance" (Dokoski, 2020).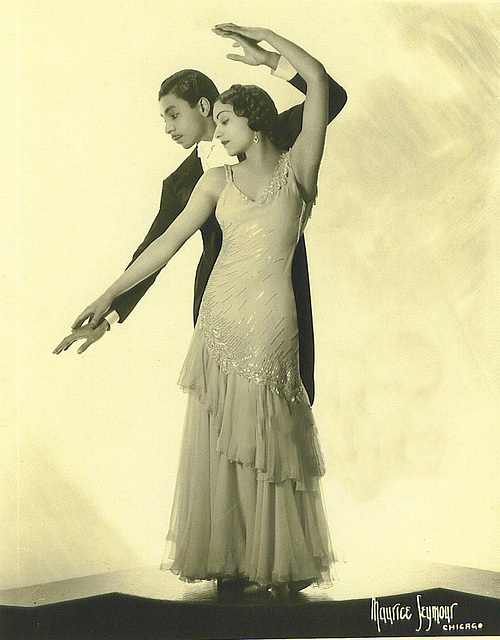 Norma Miller: The Queen of Swing
At 12 years old, Norma Miller did not let her age stop her from dancing. While she wasn't let into the Savoy Ballroom because she was too young, she didn't shy away from dancing outside on the sidewalk, where she could still hear the music. Norma's creative, comic, and vivacious dance style was evident to audiences, and when she began competing, she defeated older dancers in Lindy Hop contests (finally able to dance inside the Savoy!). She joined Herbert "Whitey" White's Lindy Hoppers before she was 18 (the youngest member of the company) and danced with them for many years until they disbanded. Later in life, she started her own dance company in California. Norma was a dancer, choreographer, comedian, actress, and author of many Swing books.
Check out this short documentary all about Norma, The Queen of Swing!
Frankie Manning
Called "Swing Dancer Extraordinaire" and "Ambassador of Lindy Hop," Tony Award Winner, Frankie Manning was a leading dancer at the Savoy Ballroom in Harlem, the same ballroom where one of his future dance partners, Norma Miller, would dance (Frankiemanning.com, 2022). Frankie was known for revolutionizing Lindy Hop with the invention of the "Lindy Air Step" and synchronized Lindy routines. Just like Norma, Frankie also danced in White's Lindy Hoppers, becoming their chief choreographer. As the swing era slowed in the 1940s, Frankie took a job working at the Post Office, only to return to swing when he was rediscovered in the mid-80s. Frankie's career flourished as a choreographer, teacher, and global performer from this point on.
Learn about some of the foundational elements of the Lindy Hop with Frankie in this video!
Bill "Bojangles" Robinson
A pioneer of tap dance within the United States, Bill Robinson, dropped out of school at seven years old to pursue a career in dance. At age 9, he began touring with various dance troupes and traveling companies, gaining success as a dance and comedy performer. Robinson didn't dance for white audiences until he was 50 years old, where he became known for the infamous "stair dance," which he admits was an impulsive dance decision while being honored by the King of England. What Robinson thought was just a simple jig up a flight of stairs became known as his most famous and requested dance move. Robinson was known for theater, television, and stage performances showcasing his energetic style throughout tap and jazz dance.
Sometimes the best things happen by accident…check out the infamous stair dance! We love the use of musicality throughout this routine.
Gladys Crowder and Eddie "Shorty" Davis
While there isn't too much documentation about Savoy Ballroom dancers Gladys Crowder and Eddie "Shorty" Davis, we love the excitement and surprise of this photo showcasing two of the original swing greats. In September of 1937, Whitey's Lindy Hoppers, including Gladys and Eddie, performed in the film "Manhattan Merry Go-Round". Their dance number with Cab Calloway features short snippets of Gladys, Eddie, and their fellow Whitey's dancers!
Gladys and Eddie frequented competitions at the Savoy Ballroom in Harlem, New York, such as this one here!
The Nicholas Brothers
Fayard and Harold Nicholas may have been seven years apart in age, but their love for dance kept them close. Their parents were musicians who played music at the Standard Theater in Philadelphia and often brought Fayard and Harold to work with them. Fascinated by the dancers, musicians, and other performers they saw, Fayard was hooked. In classic younger brother behavior, Harold watched Fayard, mimicking him as they grew. The brothers were eventually hired to perform for New York radio programs, Vaudeville showcases, and clubs. As their following grew, the brothers appeared in three films in the 1930s and eventually a Broadway debut. Known initially for acrobatic tap and jazz dancing, the brothers began to study ballet techniques upon their European tours, implementing this new knowledge into their own dance style. The brothers danced across continents, for presidents and Kings, and headlined shows worldwide. Their fearlessness, integration of multiple dance styles, and fast foot actions are qualities that dancers of all styles can still aspire to today.
Watch the Nicholas Brothers dance to a song that we still hear played at ballroom competitions today!
Al Minns
Another member of Whitey's Lindy Hoppers, Al Minns, was known for his "wild, crazy-leg style…[and was] particularly fit and flexible" (Lindy Hop Reporter, 2019). While many swing dancers around the 1950s took a break from dance as the swing era died down, Minns had an uninterrupted career pursuing jazz and Lindy Hop styles. He was known for helping revitalize Lindy Hop as it once again became a phenomenon in the 1980s. Minns performed on stage and for film and continued to teach into his 60s, helping to keep the Swing style alive.
Learn how to dance the Camel Walk (a variation of the Charleston) with Al Minns!
What element of these dancers' movement styles are you excited to incorporate into your own choreography?

References
African American Dance, a brief history - African American Registry. (2009). African American Registry. https://aaregistry.org/story/african-american-dance-a-brief-history/
Cass. (2018, April 23). Bill "Bojangles" Robinson, 1878 – 1949. Harlem World Magazine. https://www.harlemworldmagazine.com/bill-bojangles-robinson/
Dokosi, M. (2020, May 22). How racism pushed Margot and Norton, a black ballroom dance couple to pass as "hispanic" to be hired. Face2Face Africa. https://face2faceafrica.com/article/how-racism-pushed-margot-and-norton-a-black-ballroom-dance-couple-to-pass-as-hispanic-to-be-hired
FrankieManning.com - Bio. (2022). Www.frankiemanning.com. https://www.frankiemanning.com/bio.php
Pritchett, J. (2020, June 24). Norma Miller. Frankie Manning Foundation. https://www.frankiemanningfoundation.org/norma-miller-2/
Reporter, L. H. (2018, August 25). Al Minns. Frankie Manning Foundation. https://www.frankiemanningfoundation.org/al-minns/
The Official Nicholas Brothers Website. (n.d.). Www.nicholasbrothers.com. https://www.nicholasbrothers.com‌