Fast-paced, explosive energy, and special attention to detail, are words to describe the International Latin dance style and it's five dances: Cha Cha, Samba, Rumba, Paso Doble, and Jive.
Overview
The classic Cha Cha is a fun, sassy and cheeky game of cat-and-mouse between partners. It is characterized by a straight leg action, differentiating it from its cousin, the American Cha Cha. Internationally recognized Professional Latin Champion, Nadia Eftedal, shared about the historical origins of the straight leg action in the International Cha Cha. "As I've been taught, historically, dance competitions were held in London nightclubs as a way to bring the public back to dancing, and increase revenue after World War II. At the time, authentic Cuban movement was considered 'vulgar,' so dance teachers cleaned it up by making the legs straighter, holding the body more upright, and limiting the amount of hip movements," she explained.
The energetic Samba is a notably bouncy dance, characterized by speedy, articulate foot and body actions, quick rhythmic movements, and unique uses of beat value, danced at around 96 beats per minute. The Samba was inspired by the traditional Brazilian dance, usually danced as a single person within a group setting, and was adapted to become a partner dance.
The romantic Rumba lies in the middle of the five dances. While it appears slow, dancers who excel in the Rumba are able to utilize a more moderate tempo to their advantage. Implementing intricate syncopations and strong, coordinated movements between the rib cage and hips, dancers create a beautiful combination of slow and fast movements.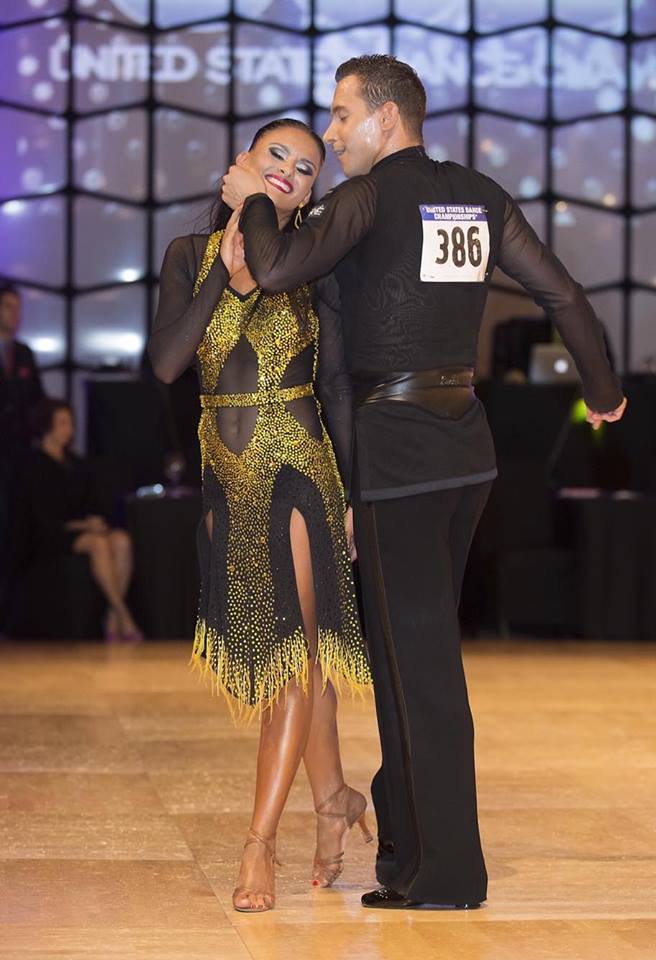 The historic Paso Doble is a French dance based on a Spanish phenomenon, the Spanish bullfight, though many figures (or steps) in the Paso Doble are referred to by their French names, even today. Within this dance, partners tell the story of the Matador (bullfighter) and his cape during the bullfight. While the Paso Doble can be danced to a variety of songs, it is typically danced to a song called "España Cani." Most Paso Dobles are choreographed to accent on certain parts of this song because it is played that frequently.
The jumpin' Jive feels like a party, and in fact, was created for that reason. Nadia explained, "dance teachers created the Jive, a fusion of East Coast Swing and Lindy Hop. To this day, the only place where people Jive is in a ballroom studio [or at a dance competition] because it was never meant to be a social dance, but a dance that was for entertaining the audience."
International Latin vs American Rhythm
You may have noticed that there is some overlap between the dances in the International Latin and American Rhythm categories. While both styles include the Cha Cha, Rumba, and some sort of swing dance, here are some core differences according to Nadia:
The movement pattern representing each style differs. "Specifically, I'm referring to the leg actions and the timing of weight transference, which also affects the hip movement."
Movement Differences Relating to Space and Time
"Latin has a slightly different approach to the use of space and time (duration, not musical timing), [whereas] American Rhythm often has a softer, rounder, and more intimate use of space within the couple as well as on the dance floor."
International Latin dancers tend to carry their weight higher as they move.
The International Latin Syllabus
Like other styles, International Latin is categorized from Bronze to Gold within a syllabus, breaking down different movement patterns (figures) by level. Learn the Dance Vision International Latin Syllabus on the Dance VIsion Library.
International Latin Choreography
International Latin choreography at the "open" or competitive level takes syllabus figures and develops them further into creative, stylistic compositions.
"The "blurring of lines" [between styles] is now often showing up choreographically," said Nadia, "Many of the basic syllabi of International Cha Cha and Rumba are patterns originating from Cuban Danson, which is the precursor to American Rumba. Those patterns are not typical within the American Rhythm Syllabus, however, that seems to be changing." The trend of blending styles also occurs between the Swing dances: East Coast Swing, West Coast Swing and Jive. "There is sharing of patterns and movement mannerisms across dancing more than ever before. Those dancers who are most successful in defining the differences are usually the more skillful dancers" she explains.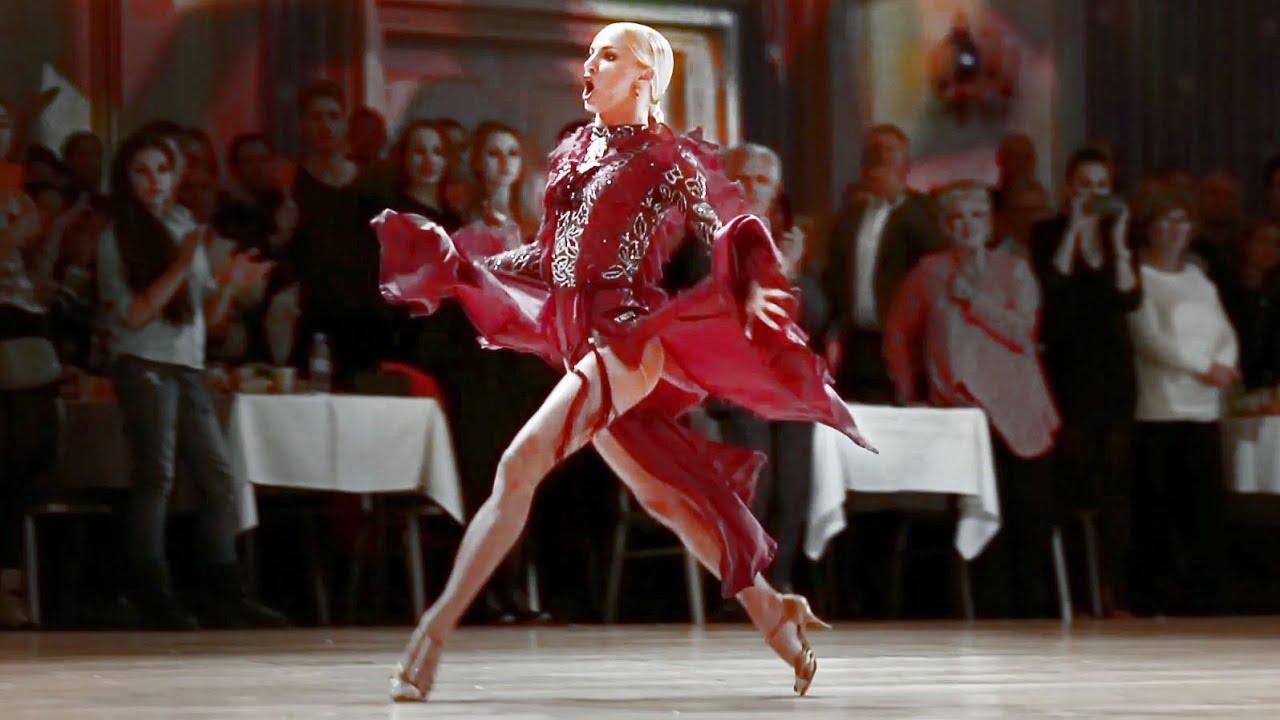 International Latin Costumes
Followers generally wear a shorter dress, for the purpose of showing off intricate leg actions throughout the Latin five dances. Dresses can have any neckline, beading, embellishments and additions that a dancer can imagine. Leaders typically adorn themselves in "Latin Pants" (see more in our "What to Wear to a Ballroom Dance Lesson" blog) and a tailored shirt, varying in sleeve and torso length depending on preference.
Are you ready to give the International Latin Style a try?
Here's a free lesson with US Professional Latin Finalistis, Mykhailo Bilopukhov & Anastasiia Shchypilina.
How about some work on upper body mechanics across all Latin dances?
Here's a free lesson with Dancing with the Stars Alum, Anna Trebunskaya.
Ready for some more dancing? Check out a free trial to access unlimited Dance Vision classes below!