"I started my dance journey as a kid taking classical ballet" explained Leanna, a pro/am "9-dancer"originally from the DC area. While most of us would think this to be the typical beginning of a dance journey, for Leanna, ballet was a way for her to find alignment, literally.
"Long story short, I had leg braces due to severely turned in hips and legs, and my mom hated them. The doc said, "put her in ballet! That'll fix it and help with retraining her turn out!" and so her journey began.
While most of us remember discovering the pure enjoyment of dance as kids, Leanna discovered how dance could be truly transformational for her - emotionally, mentally and physically.
Leanna continued her ballet training throughout childhood eventually leading her into an arts college. After dabbling in all styles of dance in her young adulthood, Leanna discovered ballroom at the age of 39.
Her first steps into a studio were through social dance parties at an Arthur Murray where she quickly discovered the magic of Alexandra and Peter Perzhu as well as Emmanuel Pierre-Antoine and Liana Churilova. "I really got exposed to professional ballroom dancing with those two couples initially through American Smooth and Rhythm. The expressiveness and character of each dance, as these couples presented and performed them, really made an impact on how I began to see higher level dancing" explained Leanna.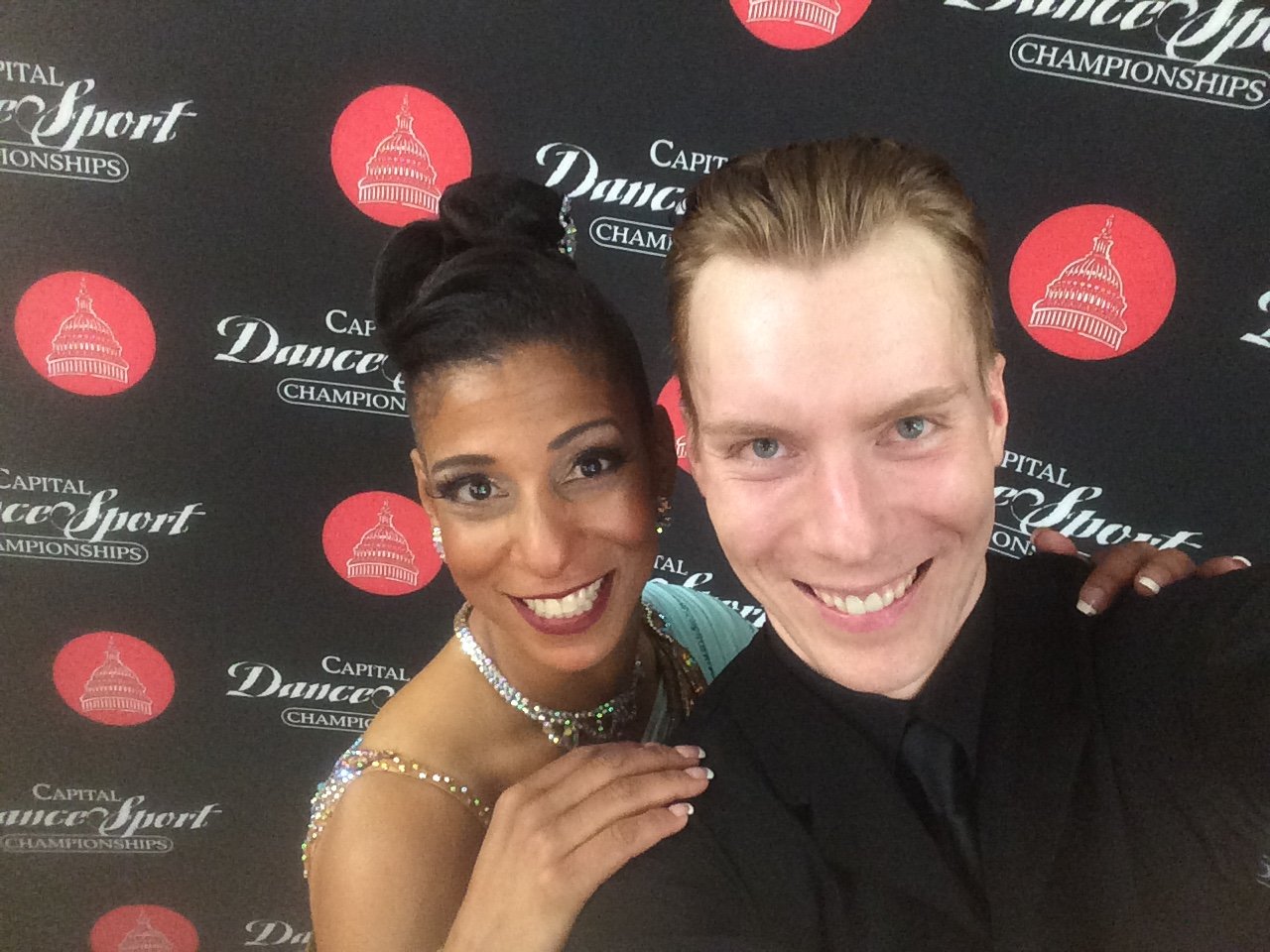 Leanna currently works with her coach Kirill Gorjatsev,"He's truly a phenomenal pro, but also has been what I'd want from a coach with his knowledge base, and teaching ability, that is not easy to find." Leanna explained. Throughout her ballroom dance journey, Leanna has taken from many coaches but two stuck out to her as prominent influences. "David Hamilton probably stands out as one of my favorites" Leanna explained, "I'm very very analytical, and his style of teaching fits that so well, but the humor he imparts while never mincing words about what to do makes it "work" when I'm trying to get better!"
For rhythm, Leanna has been truly impacted by one of our own Dance Vision Instructors, Nazar Norov, "His ability to capture true rhythm as well as his way of distinguishing the difference between Latin, is phenomenal. I appreciate his approach of highlighting the South "American" side of the dance, which has much more cultural components" explained Leanna.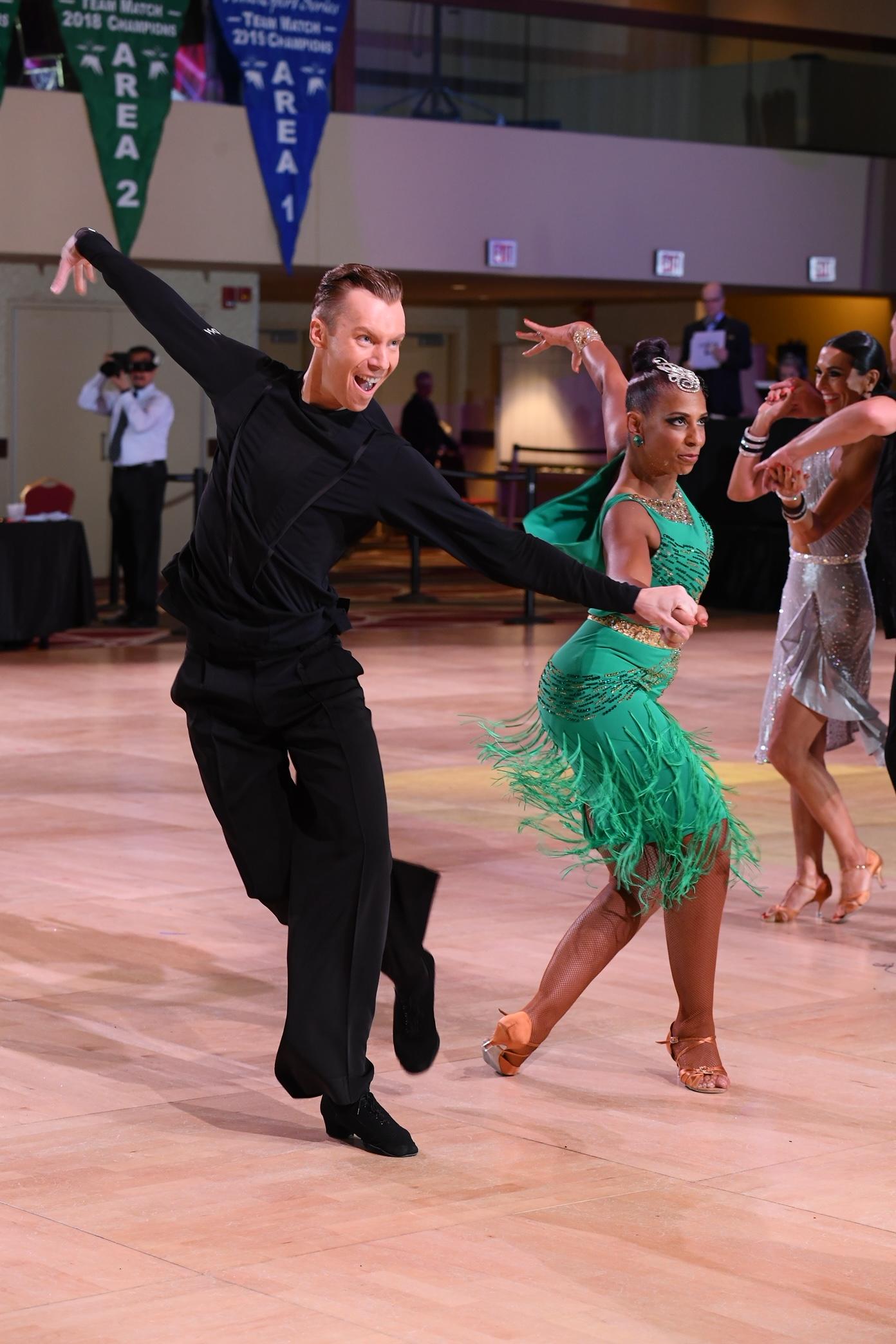 Was there a performance, choreography or costume that you felt represented you as a dancer the most? If so, what was it?
I love being a "9-dancer". I love being able to express edgy and sharp, with classical and lyrical. I worked with my pro's wife (also a pro dancer) to create a new smooth dress while we were on break during the pandemic which I feel really pulls that together, with bright pink and iridescent gold, it has a short sassy side and flowing lightweight skirt. I feel it is a perfect dress to suit me as a dancer. As far as choreography, my pro is phenomenal at really adjusting our choreography to suit me as a dancer regularly. It's a goal we have after every comp: watching video and re-evaluating it to represent me.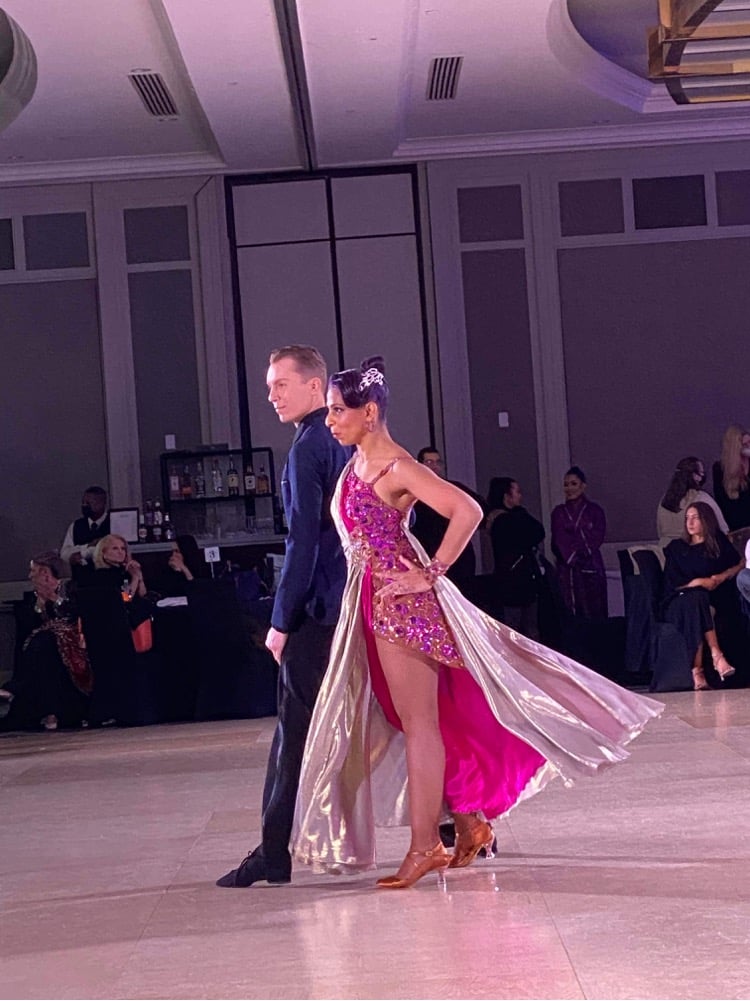 What do diversity, equality, and inclusion mean to you and why do you believe they're important values in the ballroom dance industry?
I work in a field where diversity, equality, and inclusion are discussed at length. I've also been part of dance forms (ballet and ballroom) where those are not particularly valued - at least on the surface. To me, they mean not just allowing or accepting "others", but really finding ways to break down the walls that keep "others" from participating, and succeeding. In order to embrace a more diverse world, it is so important to increase accessibility, and recognize some of the biases of the convention in ballroom that may impede success. That includes color of skin, style of hair, and body differences. This has become a recent point of discussion in the ballet world, but oddly, not really discussed in the ballroom world. But that doesn't make it any less important, in my opinion.
Describe a time where a project or decision you made was enhanced by including your unique lens.
When we began looking for a song for a Best of the Best dance showcase (I never do showcases otherwise), I came across "Believer" by Imagine Dragons, and had the idea of doing something that embraced a story of a New Orleans voodoo historical figure, and chose Marie Laveau. We created the tango, and costuming, to try to evoke some of the creole quality, with elements of African dance to enhance it as well. I was pretty happy with the dance itself, and felt that was pretty uniquely my "lens"!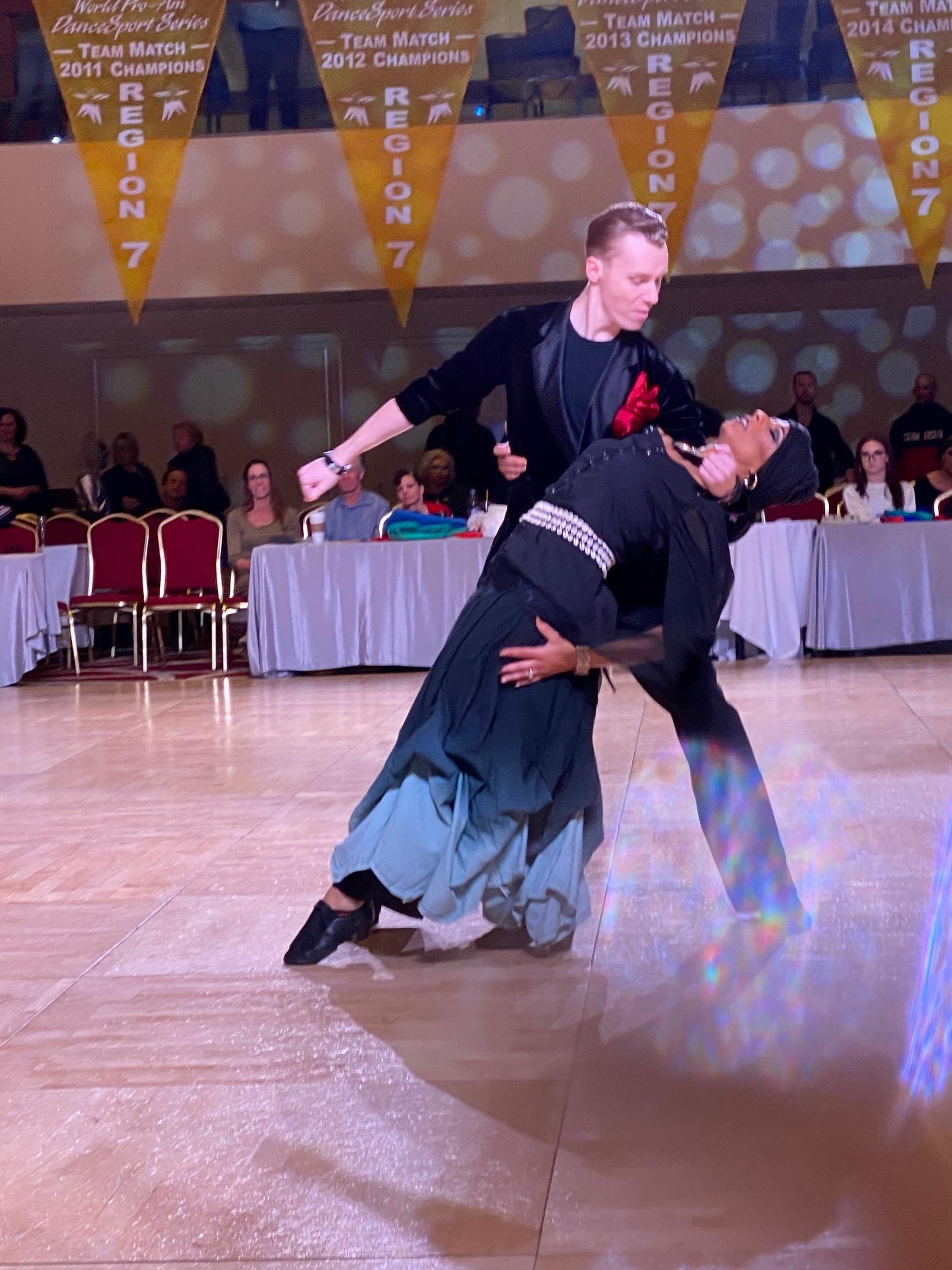 If you could leave a message for the younger generation of dancers, what would it be?
I'd say this: Dance is art, and art is expression - not perfection. Don't forget to dance with JOY, because it's so obvious when you are only doing steps - even if they are beautiful steps.
Anything else you'd like to share? Your favorite quote, book, a fun fact?
I think a fun fact is that while I think of myself as pretty "normal" in my every day life, I've had a funny history of interesting pastimes and jobs: I have an uncanny knowledge of cutlery, knives, and swords (my dad owned a retail knife chain in which I worked for years through college); and I picked up and played in competitive pool league with my husband in bars for 10 years (and occasionally still pick up a pool cue when we go out!). I don't do much reading any more, but I'm a RIDICULOUS political newsfeed junkie, and will geek out with NPR pretty much all day if given the chance!
Want to learn how to dance like our Dance Vision members? Try 7 Days Free and discover your own journey!